More Website Templates @ NetWorth InfoTech - August 14, 2012!
About Us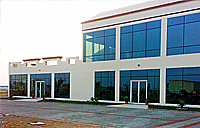 Broadcast and Distribution Services: Video, Audio & Data, Covering Europe, Middle East, Pan-Asia, Africa, North & South America and Australia
Video Vision Media - A leading provider of television and radio distribution services through premium satellite packages and leading cable operators.
Video Vision Media offers access to Satellites and Cable Operators throughout Europe, North and South America, Asia, Australia and Africa. Video Vision Media providing an access to the Playout centers of leading cable operators, as well as uplink stations of satellite operators such as; Eutelsat, Intelsat, Asia sat, NileSat, ArabSat, Turcksat, Optus and more.
Read More
Broadcast Media
1
Broadcast Management
Set-Up Broadcast or TV Station Facility (Licensing & Infrastructure)
2
Digital Satellite News Gathering
DSNG for Live Events & News Solution to anywhere in the world.
3
Satellite Space & Lease
Satellite space OU / long term available for Satellite TV reach.
4
Digital Licensing
Digital formats get copyright solution for their licensing needs.